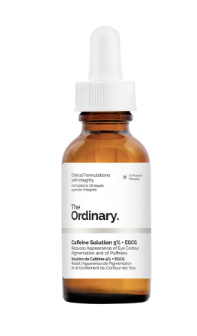 **NEW The ordinary | Caffeine Solution 5% + EGCG 30ml
Reduces Appearance of Eye Contour Pigmentation and of Puffiness
This light-textured formula contains an extremely high 5% concentration of caffeine, supplemented with highly-purified Epigallocatechin Gallatyl Glucoside (EGCG) from green tea leaves. Independent studies have shown that topical use of each of caffeine and EGCG can help reduce looks of puffiness and of dark circles in the eye contour. Additional studies have shown that caffeine can also reduce the appearance of cellulite. 

Notes: 

1. Hollowness in the eye contour as a result of structure of sub-dermal tissues like fat and bone can result in visible shadows under the eyes. This shadow, which is not to be mistaken for dark circles, cannot be addressed with topical skincare including this formula. 

2. Fat deposits under the eye contour can create permanent puffiness in this area. This type of deposit cannot be improved with topical skincare, including this formula. 

3. Supplied in UV-protective packaging as EGCG is sensitive to light.